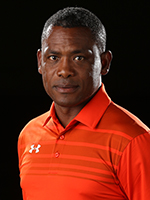 Head Coach & Pioneer Soccer School Director
Allen Vital
Allen Vital has completed his seventh season as head men's soccer coach at Tusculum in the fall of 2017. In his seven years as TC head coach, he has posted a 58-50-17 record, including 38-24-11 over the last four years combined. His 58 victories as the Pioneer skipper ranks him third all-time in program history behind Tusculum Sports Hall of Famers Tony Castainca (199) and John Eiskamp (113).
Vital, a 1992 Tusculum graduate, returned to his alma mater in December, 2010 after 14 seasons as the head coach at Carson-Newman University. While at the Jefferson City, Tenn. school, Vital amassed an impressive 165-85-19 worksheet, giving him a career coaching mark of 232-118-30, making him the second winningest coach in South Atlantic Conference history. He enters the 2017 campaign with a career SAC worksheet of 99-53-11, which are also the second-most league wins in conference history.
While at Tusculum, he has led the Pioneers to a pair of SAC Tournament titles (2014 & 2016), including 2016 where he guided TC to a 16-4 record, including an impressive 12-0 start to the season, its best as a NCAA II member. Tusculum finished the season ranked 24th in the country and third in the Southeast Region while earning the program its fifth NCAA II postseason berth.
In his first year at Tusculum, Vital earned SAC Coach of the Year honors for the sixth time in his career after directing a youthful Pioneer squad to a second-place finish in the conference with a 6-1-2 record. It was the ninth time that a Vital-led team has finished either first or second in the SAC.
In 2014, Vital guided the Pioneers to their first SAC Tournament Championship since 2009, winning three matches away from home after entering the tournament as the sixth seed. During the tournament, the Pioneers won a quarterfinal match at Carson-Newman on a goal in the 88th minute, advanced past Mars Hill in the semifinals on penalty kicks, then defeated 20th-ranked Wingate in double overtime on a goal from Mark Patterson after tying the game with two minutes remaining in regulation.
With a career record of 234-126-36, Vital ranks in the top-30 among active NCAA Division II coaches in both wins and winning percentage (.636). Vital has had 23 All-South Atlantic Conference selections during his seven years at Tusculum, along with All-Region selections Matias Rubio (2011), Guillermo Lazcano (2015) and Andre De Giorgi (2016). Vital recorded his 200th career victory on September 16, 2015 as the Pioneers defeated Queens University of Charlotte 2-0 on the road. He became only the second coach in SAC history with 100 conference wins when the Pioneers blanked Anderson 2-0 on Sep. 23, 2017.
Vital led the Carson-Newman to eight South Atlantic Conference championships (2000, 2003, 2004, 2005, 2006, 2008, 2009, 2010), one SAC Tournament title (2005) and seven consecutive trips to the NCAA Division II Tournament (2003, 2004, 2005, 2006, 2007, 2008, 2009). He has been named SAC Coach of the Year six times (2000, 2003, 2004, 2005, 2009, 2011) and NCAA II Region Coach of the Year on two occasions.
In 2010, Vital guided C-N to a 12-5-1 record, including 8-1 in the league to capture the program's third straight SAC championship and seventh in a span of eight seasons. It was also C-N's eighth consecutive winning season with Vital's teams going 115-31-14, including 49-6-4 in South Atlantic Conference play (.864) during that eight-year span.
Vital led the Eagles to one of the most successful seasons in school history in 2003 as Carson-Newman went 14-6-3 and 6-1 in league action to win their second SAC title in four years. The Eagles advanced to the NCAA Tournament where they defeated two top-10 teams in UNC Pembroke and USC Spartanburg and advanced to the NCAA II Elite Eight for the first time in school history. C-N lost a hard-fought match to eventual national champion Lynn University. The Eagles finished the season ranked 12th in the final D-II poll in 2003.
He followed that season with yet another successful campaign in 2004 as the Eagles won the SAC title again and was ranked as high as number one in the NSCAA Division II Pool during the season. Coach Vital was named SAC Coach of the Year and Tyler Baldock was selected the SAC Player of the Year as C-N went 17-2-1 for the program's best winning percentage in school history.
Vital and Baldock repeated those honors in 2005 as the Eagles went 18-2-2 for the most wins in school history as C-N finished the year ranked sixth in the nation. Carson-Newman captured the program's third straight SAC Championship and its first Food Lion SAC Tournament title in school history. Vital and the Eagles followed with the first four-peat performance in SAC history as C-N posted a 14-2-2 worksheet in 2006 and finished the year ranked 15th in Division II.
Vital and his wife, Christina (who earned her Masters degree from Tusculum in 1994), are the proud parents of three boys Devin Alain, Jean-Pierre and Remi.